Monday 16th April 2012
ANOTHER GREAT DUSTY DAY!!

Superlatives were flying around West 5 last night after a very popular Dusty Day event. Many people felt the entertainment was the finest seen at a Dusty Day.
Highlights included pianist Bobby Crush in a Dusty medley, Mari Wilson singing I Only Want To Be With You & How Can I Be Sure, Tommy Blaize with Madeline Bell on If You Go Away and With You I'm Born Again, Simon Bell on All I See Is You & I Can't Make It Alone, and Madeline herself on I'm Gonna Make You Love Me & What Becomes Of The Brokenhearted.
In the finale (below) all the vocalists, with Jonathan Cohen accompanying, sent fond thoughts to Robin Gibb by singing the Bee Gees song To Love Somebody.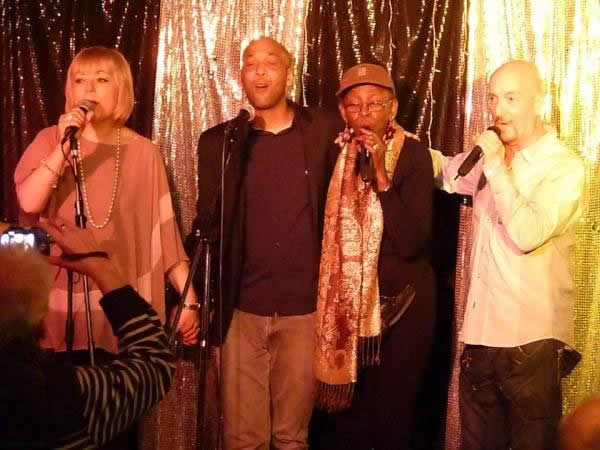 (picture from Mari Wilson's Twitter feed)
The auction raised a lot for the Royal Marsden (money still to be totalled), as did the raffle which was drawn with the aid of singer Kelly Wilde.
There was a tribute to the victims of the Titanic sinking, with Dusty singing The Water Is Wide.
Thanks must go to Justin Whittingham for loaning the keyboard for the day, the staff & management of West 5 for working so hard, Jonathan on sound, John Aitken, Paul O'Mara & Clive Burgess, and to each and every one of you who attended.
And we cannot forget Pat Rhodes, who looked after Dusty for so many years, and managed to make sense out of the sometimes chaos in the auction.
Here's to Dusty Day 2013!!